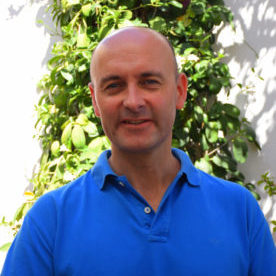 Let's connect
Neil Hesketh
Marketing and Business Development
We help English-speaking companies and individuals do better business in Spain. Perhaps you have a company already and you want to launch it to the Spanish market when you arrive. Or maybe you are already living here and have a great idea for a product or service and want to make sure it is just right for the Spanish market.
Don't assume your idea or existing business plan transfers exactly to Spain. We can help with everything, you choose what you need; from the strategic plan to help you get that loan or investment, through to the simplest translation or publicity materials to get the local clients flooding through the door.
We draw on 16 years' proven track record in Spain with our own companies and working for others (there isn't much we haven't experienced!) and are fluent in Spanish, as well as 26 years' senior marketing experience. Neil is a registered Chartered Marketer with the UK's Chartered Institute of Marketing and Spanish Approach are winners of the Costa del Sol Business Award for Integration in Andalucía.
Integrating into Spanish Life
During my talk, we are covering the following topics:
what different things a new business owner need to think about when establishing her/his company in Spain
the importance of knowing Spanish when building a business in Spain
how to get into the Spanish market with your products and services
what sort of support services there are for seniors moving to Spain, and how to make sure you can get all the benefits of healthcare and support
what support we offer for Brittish citizens at supportinspain.info website
tips for integrating to the Spanish society
ABOUT SPAIN EXPO
THE LARGEST ONLINE CONFERENCE FOR FOREIGNERS MOVING TO OR DREAMING ABOUT SPAIN
Join us for interesting and value-packed conversations with experts who will share with you their expertise covering topics such as buying a property, the school system, having a business in Spain, retirement, legal requirements, and much more. The event itself will run for 5 days, and it's completely online and completely FREE!